Selected papers will be extended and published in special issues of leading journals in sustainability and energy engineering (list to be confirmed):
Journal of Cleaner Production, IF=11.072, Co-EiC: J.J. Klemeš, C. de Almeida, Y. Wang.
Cleaner Chemical Engineering, EiC J.J. Klemeš, M. Zeng
Cleaner Engineering and Technology, EiC J.J. Klemeš, P. Ocłoń.
Renewable & Sustainable Energy Reviews, IF=16.799, EiC: A. Foley.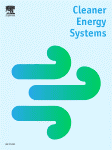 Cleaner Energy Systems, EiC P. Seferlis, P.S. Varbanov
Energy, IF=8.857, EiC: H. Lund.